WEST High School


Class of 1970
In Memory
Lloyd Wakefield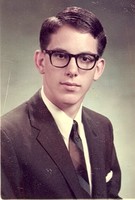 Lloyd Hamilton Wakefield
January 30, 1952 ~ May 22, 1993
Memorial services were held in Hillcrest Congregational Church, Pleasant Hill for Lloyd Wakefield, 41 who passed away May 22, 1993 in San Francisco.
Lloyd was born January 30, 1952 and lived in San Ramon for 6 1/2 years and was a native of Bakersfield, California.
He was a senior engineer for PG& E, San Francisco for 17 years. Lloyd enjoyed motorcycling, fishing, target shooting , and a computer hobbiest.
He attended Bakersfield College from 1970 to 1972, received a B.S.E.E. from UC Berkeley in 1974, a M.S.E.E. from Georgia Tech in 1976; was a licensed registered electrical engineer and a member of Pacific Coast Electrical Assoc.
He is survived by his wife Maureen Wakefield; daughter, Lauren Wakefield and son James Wakefield, all of San Ramon; sisters Tracy Pratt of Salem , Oregon and Ann Dowrick of Parker Colorado; mother Betty Wakefield of Bakersfield; father and step mother, Charles and Jo Wakefield of Bakersfield.
Source: Bakersfield Californian
Note;
I lost my dear brother Lloyd in 1993 due to complications following a liver transplant needed as a result of an autoimmune disease brought on by a twenty year battle with ulcerative colitis.
Tracy Wakefield Pratt